Everyone starts as a Beginner
Have you ever thought about going to a gym but didn't know what to do? Or worse, have you joined a gym and still don't know what to do? Do you feel that you're "not ready" to join a fitness class simply because… again.. you don't know what to do?
This is the conversation I've had with dozens of women. They simply haven't a breeze when it comes to exercise and nutrition.  They're sick of hearing conflicting information and nonsense from "Gurus/ Consultants" and they would love to get started in a group where absolutely *everyone* is in the same boat.
Which is why I've created the 6 Week Transformation Kickstart – a small group training programme that's both effective and affordable for women who deeply desire results, but just need a shift in the right direction.
In just Six Short Weeks you're going to learn how to master the fundamentals of exercise & nutrition for health & wellbeing…
And you're going to ENJOY every second of it!
I love your honesty! I had been following you on social media for a while and liked the no nonsense approach and felt that would suit me. I also was kinda afraid of the weights but knowing it was a small group appealed to me.Helena
---
Sign Up NOW!
---
What You'll Get
Connector.

Start from Square One

Forget what Breda in Slimming club said. No more second guessing what exercises to do. You'll learn exactly HOW to lift weights and more importantly WHY we do it, so you can take that knowledge with you for life.

Connector.

Train 3 Times Per Week

Science says that it's the ideal combo for anyone new to exercise to start seeing results without totally turning your life upside down. 1 Small Group Personal Training, 1 Metabolic Resistance Training and 1 Super Duper FUN Cardio Dance or Step Session. The perfect trio to get the ball rolling.

Connector.

Nutrition Coaching

You'll be emailed every other day, keeping you accountable and mindful everyday for six weeks. Learn how to put simple daily nutrition habits in place so you'll never have to question your choices and still enjoy the foods you love! As it's sent to your email, you'll have that content to look back on whenever you like.

Connector.

Small Group Training

Places are Limited to MAX 8 per cycle. That means you won't be left in a corner twiddling your thumbs or trying not to kick your neighbour in the face (seriously!!) No matter what fitness class you join you DESERVE the care and attention from the trainer, but here's the thing: most places with large groups simply don't do that! You can be rest assured that you're in safe hands from start to finish.

Connector.

Transform In 4 Meal Plan

The Transform in 4 is a "Done For You" 4 week meal plan so you don't have to second guess any meal choices. The 50 Page Book contains your meals for 4 weeks, weekly shopping list and step by step recipes on HOW to cook your meals.

Connector.

60 Additional Recipes

If you're not fancying something on the Transform in 4, you'll be given another 60 tasty recipes to choose from, which includes a breakdown of nutrition content in each. A high amount of these recipes can be modified to suit a plant-based or vegetarian diet.

Connector.

Expert Guidance from a Coach Who Cares

No more joining gyms and having a 15 minute induction before being left to your own devices. There are no silly or stupid questions, grasp this opportunity with both hands. The thought of change is scary, but I'm here to help!
Only 8 Places Available, Click Here To Sign Up NOW
---
---
Kickstart Timetable
Duration: 6 Weeks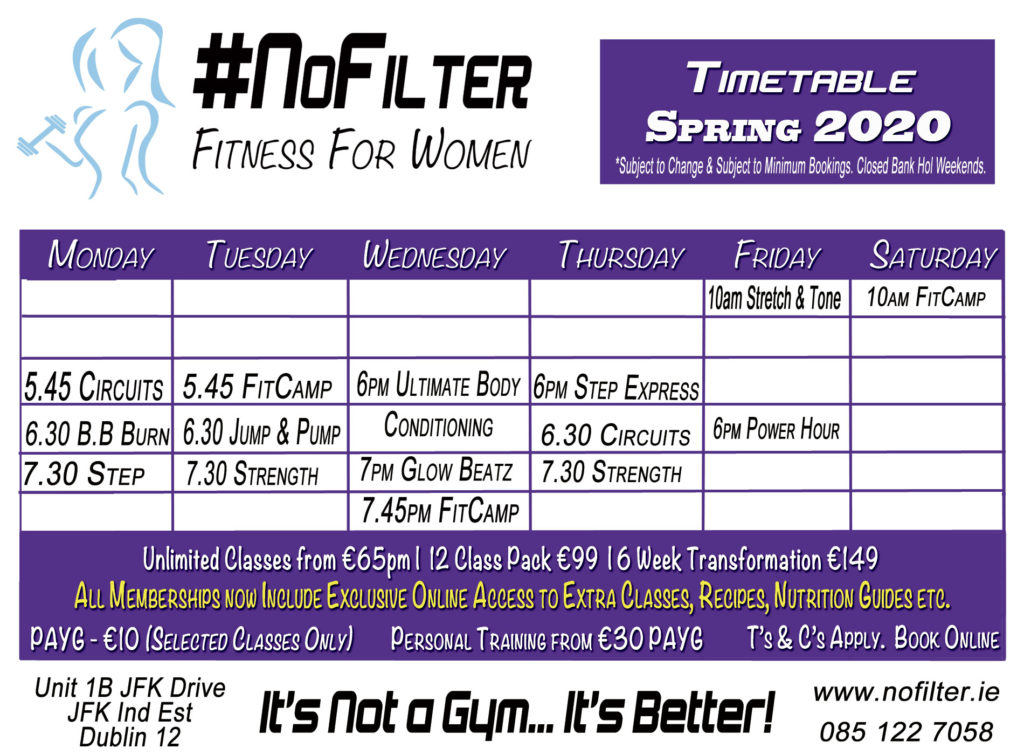 You now have the flexibility to choose 3 classes per week and they don't have to be the same times every week. Eg Your usual availability could be Mon 7.30pm, Wed 6pm & Fri 6pm, if something comes up one week where you can't come in Monday, you can come in Thursday without missing out.
**Be advised: It's best to decide in ADVANCE before booking your place, which 3 classes you will attend every week.  Make the decision to commit to get fit rather than playing it by ear.  It will help you stick to the course for the full duration.**
---
For 12 Classes & 6 Small Group PT Sessions & 80+ Recipes & Group & 6 Weeks Nutrition Coaching all together the retail value is €359
You Pay: €149
(Works out at €8.20 Per Exercise Session & all the other bits are FREE… simply because I want to do everything I can to help you succeed)
---
You'll find us in JFK Industrial Estate which is conveniently located close to the Nangor Road, Killeen Road, Kylemore Road and Naas Road. We're next door to The Corn Store, which there are signs posted from every entrance to the estate.
Why I do This?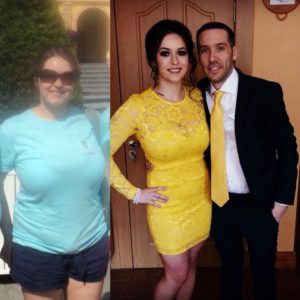 You should know that I'm a "life is for living" Coach. I've never been on a diet. The gym was never my scene. I went from a dark place in my life where I felt that I was destined to be miserable forever because "that's just how it is". It was only when I started exercising where I found some joy in life, and over time as I started to feel better on the inside, everything on the outside started to change. I started to share my passion for exercise with women from Lucan and surrounding areas. When I saw how much impact it had on their lives, that's when #NoFilter Fitness was created.  A permanent residence for normal, everyday women, to find their joy in life and to meet new friends.  Every day I'm thankful to those amazing women who come in because each one brings their own sparkle and will forever hold a special place in my heart.
-Sarah-Jane
What are you waiting for? Click Here To Sign Up NOW
---
As someone who has significantly benefited from your online training I can honestly say that you are the reason I have stayed focused and now use your (+1) technique when I have a 'bad day' – you are an amazing trainer and person. Thank you for all your support.Karen
Women's Fitness Dublin, Women's Gym Dublin, Beginners Classes Clondalkin, Beginners Classes Lucan, Beginners Classes Crumlin, Keep Fit Dublin, 6 Week Challenge Dublin, Fitness for Women