Have you ever felt as though you're constantly self sabotaging your efforts to become fit and healthy?
---
Have you reached your targets in the past, but soon went back to your old ways?
Or despite multiple attempts to get started, you've given up after a couple of weeks or months?
Constantly on the never ending cycle of diets, detoxes and fitness challenges.
Or being so overwhelmed by the idea that it's not worth entertaining at all…
Imagine for a moment what your life would feel like after finally getting what you want.
A happy and healthy life.
In control of your emotional relationship with food, your body, your mind and yourself.
Being a better parent, partner, colleague, friend.
Having more energy, focus, determination and confidence.
What does this new life look like to you?
Book a Consultation
Your Customized Luxury Plan to Stand Out and Succeed
One to One Weekly Personal Coaching infusing Hypnotherapy, Personal Training and Nutrition over a period of 12 Weeks.
As a Remedial Hypnotist, we will instantly rewire old limiting beliefs, habits, feelings that have stopped you in the past. This could include but not limited to, emotional eating, boredom eating, sleep troubles, anxiety, negative body image, lack of motivation, binge eating, fear of change, fear of how others will respond to your new lifestyle.
As a Personal Trainer, we will work together on an activity plan that suits YOUR needs. This could mean for someone with reduced mobility due to obesity, starting with taking a few more steps everyday, seated exercises and adding on when that gets easier. Or for someone more mobile, a training plan that progresses every 4 weeks as your fitness levels improve.
As a Nutrition Coach, we will introduce a step by step bulletproof framework system, building healthy habits and mindfulness so that by Week 12, you will never have to worry about or feel guilty over food again.
This is not a one size fits all package, as your barriers, goals, abilities and beliefs are unique to you.
This is a luxury, customised strategy to success, tailored to your individual needs.
In your very first session you can expect to feel completely different about the number 1 thing that's been stopping you for all these years.
Book a Consultation
You've been on and off diets for as long as you can remember
You don't sleep very well
You've been told by a doctor that your lifestyle habits are going to have a devastating impact on your health
You do not know where to even get started
You've tried and failed multiple times in the past with gyms, coaches or slimming clubs
You're constantly stressed out
You literally can not stop eating after one portion
You decide to binge eat (or starve) in response to stress, tiredness or depression
You look in the mirror and despair at what you see
You feel anxious at regular triggers such as stepping onto the scales or being invited out to dinner
You think that other people are watching what you eat and judging you for that
You feel like you've completely lost control of your actions, thoughts and feelings
And
You're finally ready to do something about it
Book a Consultation
What Makes this Different?
---
Personal Trainers are qualified in fitness, some with nutrition advice. They write you a programme and teach you how to do it. They can be a great support in your health and fitness goals, but are not trained in how to work with the emotional side of your brain, which is often the root cause of the client giving up and "ghosting" their trainer.
Nutrition Coaches look after the diet and adopting specific habits required for lifelong sustainability. They make a conscious effort to instill subconscious programming through habitual practice. This is the overall goal so that the client heals their relationship with food, however for most clients, the process is too slow and often battle with conflicting messages delivered by their emotions, which traditional Nutrition Coaches are not equipped to deal with.
Hypnotherapists treat one pattern of thought at a time, which often leads to new problems opening up as soon as the current pattern is changed. This leads the client to believe that the hypnotherapy didn't work and they don't go back for follow up sessions. In your first session, we will address your top limiting beliefs, then look after any secondary beliefs that might pop up along the way.
While hypnotherapists work with the mind, they do not specialise in the practical side of activity and nutrition. And while PT's and NC's deal with the practical side, they're not proficient in reprogramming the mind.
An accumulation of all three, delivered by one coach with qualifications in all aspects is the winning formula to fast track your path to success and save you money in the long term.
Book a Consultation
-Weekly 1:1 Private Coaching Calls with actionable results from Day 1, your biggest mindset barrier to change will be removed on the very first day.

-Heal your relationship with food, your body and your self worth
-Eliminate any guilt associated with eating or taking care of yourself
-Address what keeps you awake at night or zaps your energy throughout the day
-Access to my full library of online resources including:
-Over 100 workout videos

-80 something recipes

-PLUS a personal strategy plan in activity and nutrition that works around your current commitments.
By the end of the 12 weeks you will feel a 100% turnaround in the way that you think, feel or behave when it comes to your health and wellbeing and you will learn how to maintain and sustain your results and access your own emotional brain to upgrade any patterns in the future.
Book a Consultation
Live Demo
This is a demonstration of how I helped one lady remove her fear of small spaces live on a free webinar.
She goes from 10/12 feeling the fear to 0 fear in just a few minutes.
Phobias are great public demos because 1. Most people feel comfortable participating in front of an audience and 2. Once the mind realises it can change one thing, then it realises that the possibilities are endless.
Note that my method is not traditional hypnotherapy; the client is alert, awake and aware of everything the whole time.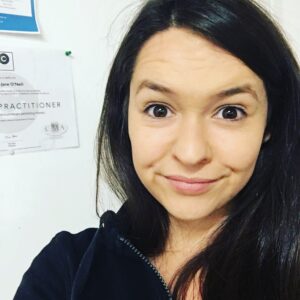 Hi, I'm Sarah-Jane.
I've been a freelance Coach for over ten years, helping people from all walks of life find their mojo and thirst for life through the joy of movement and eating for nourishment and enjoyment.
I'm a qualified Personal Trainer and a Certified Nutrition Coach with Precision Nutrition.
For the past two years I've also been working as a Hypnotherapist, qualified by The Control Academy.
The clients who come to me for help are the ones that have finally realised that there is an underlying pattern working against their ideal health goals, caused by years of being exposed to influences that shape our beliefs around food, our bodies, our relationships and ourselves.
I've had a 100% satisfaction rate with all of my clients to date.
And the reason why I have such a high success rate is down to my thorough consultation process, where ultimately I test hypnotherapy exercises on prospective clients to make sure that the Coaching process will work for them, regardless of what it is that they would like to change.