Corporate Training
---
Why "weight" in traffic when the weights can come to you? In office after work & lunchtime sessions are growing in popularity especially for those who can't make it to the gym after they get home, cook dinner, put the kids to bed etc. Move the tables to the side of the room and boom – canteen instantly converted to a studio! No room is too big or too small, sessions can be adapted to the size of your space.
You can book a "taster" class at a reduced rate before deciding to go ahead with a long term (10-16 weeks) or short term (6-8 weeks) package. The types of classes on offer, but not limited to are:
Clubbercise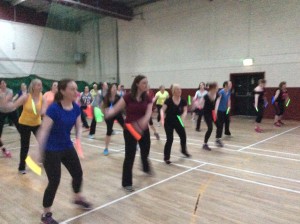 Pound
Body Conditioning
HIIT (High Intensity Interval Training)
Aero Boxing
Circuit Training
Dance Fitness
If you have a large amount of peers, but little space to accommodate them, we can arrange a weekly Weight Loss Clinic which will cover Nutritional Advice and exercises that can be done on breaks in the office or at home. A private Facebook follow up & support group is automatically included with our Weight Loss Clinic package.