Studio Hire
---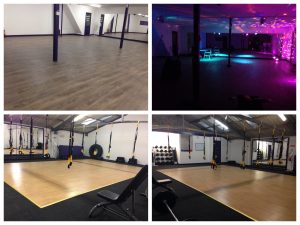 Our brand new studio consists of two floors. Downstairs is a fully equipped dance studio with mirrors 6ft x 25ft, disco lights and sound system that works with any phone, tablet or laptop with a standard earphone jack. Upstairs in our Gym you'll find free weights, suspension trainers, kettle bells, tyres, battle ropes – all conveniently placed around our 50 sqm laminate flooring which is perfect for group training, personal training or dance lessons.
We offer a generous discount for current members who wish to host their children's birthday party at our studio.
Our studio is also available to groups who run activities different to ours such as youth groups, martial arts, dance schools, yoga, baby massage, book clubs etc.  Rates are reasonable and discounts available on block bookings.
Please note our studios are not available to outside instructors wishing to run public fitness classes similar to our own. Please inquire within if you would like to join our team.