This is an affordable online plan for Fit "ish" people looking to increase or maintain their levels.
---
No messing. Just Sweat.
If you want an easy to follow On Demand Health & Fitness Plan
That has a wonderful Combo of Cardio, Resistance and Active Recover. 
Follow this plan and in four-six weeks you'll notice some amazing results.
Sign Up
Connector.

Structured Exercise Plan

Follow the 6 Week Plan or mix and match the workouts to suit your needs.

Connector.

On Demand Workout Videos

HIIT, Pilates, Body Conditioning, Aerobics & Core

Connector.

30 New* Tasty Recipes

To inspire your tastebuds. Breakfast, Lunch, Dinner, Snacks & Smoothies all covered here. *If You already have our Beginners Plan, these recipes can be added to your collection.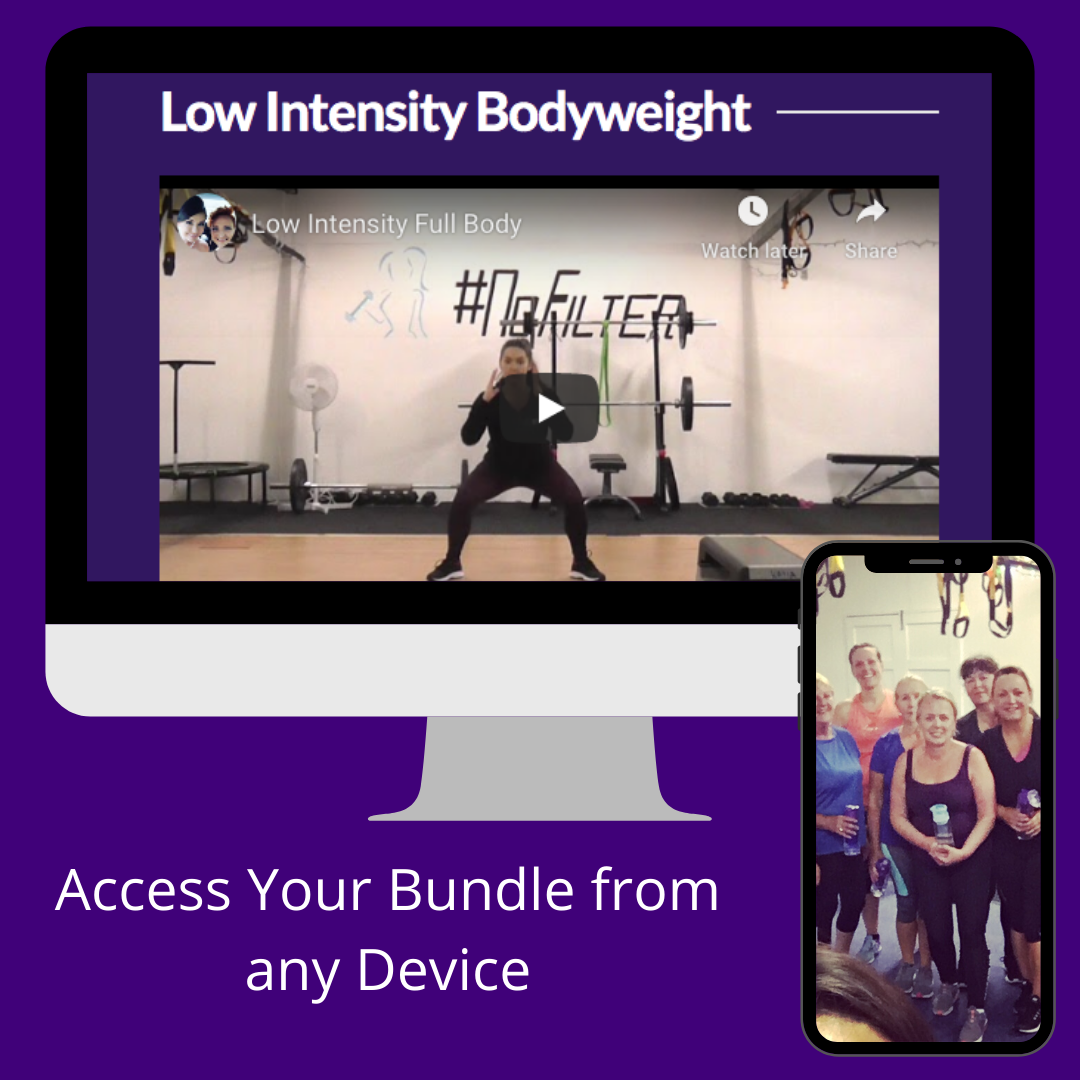 Connector.

Eat Well to Feel Well Seminar

Learn about how to balance your dietary lifestyle so you're never again on an "all or nothing" cycle

Connector.

No nonsense HTLW Guide

For those who are stuck on a plateau and want to shift some weight.

Connector.

Strategy for Success Video

Learn how the mind works so even when you're lacking motivation, you will succeed.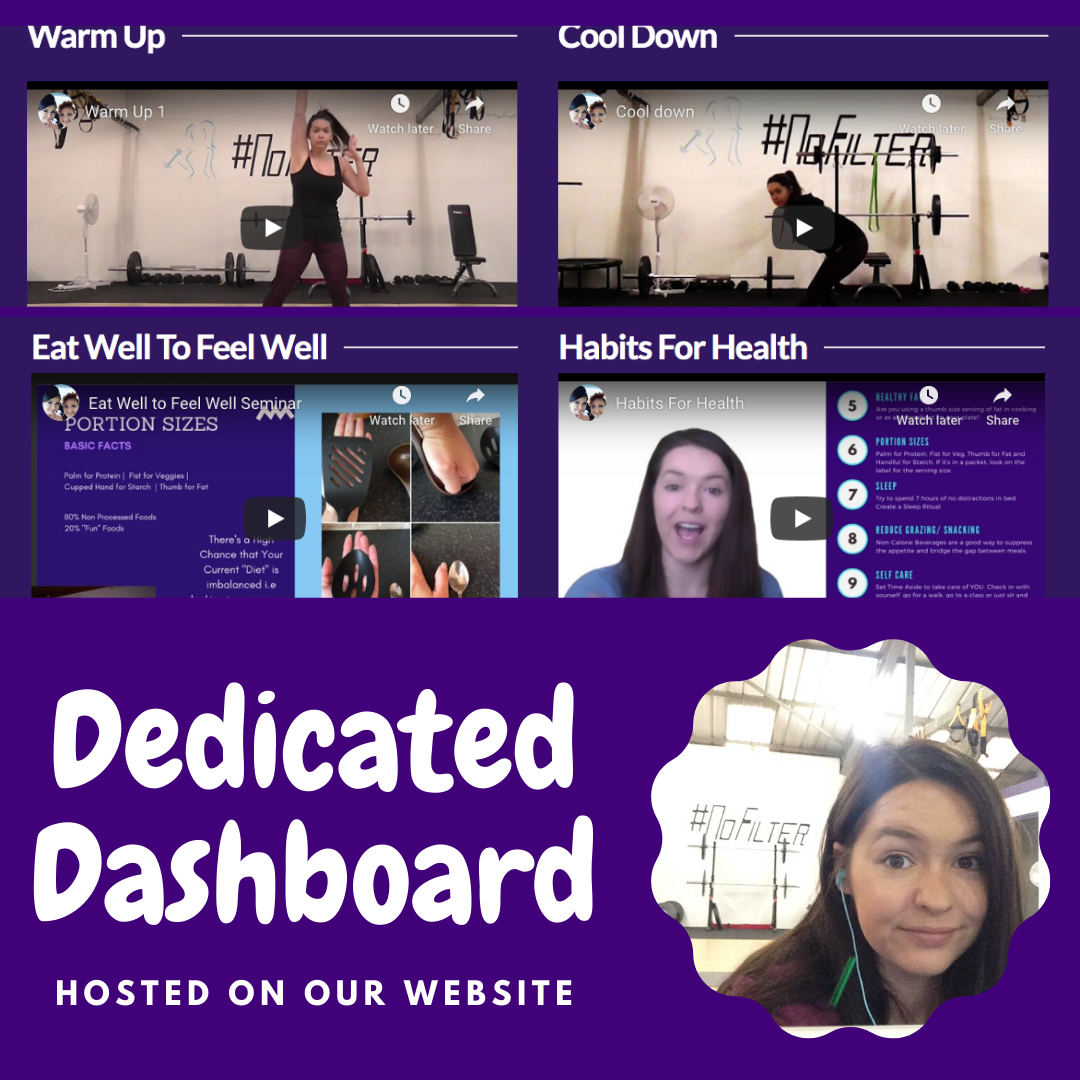 Cast to Your TV or Stream from your Device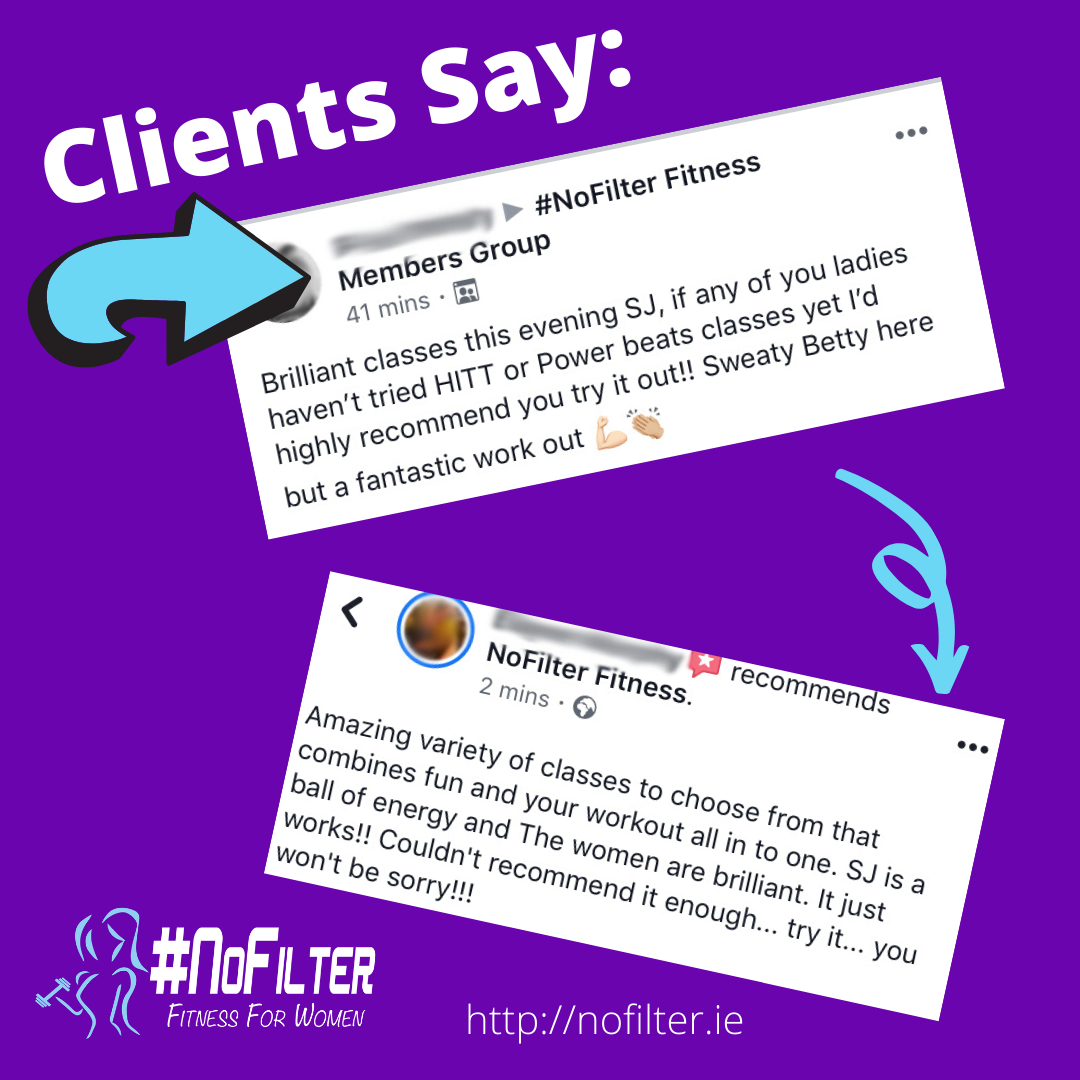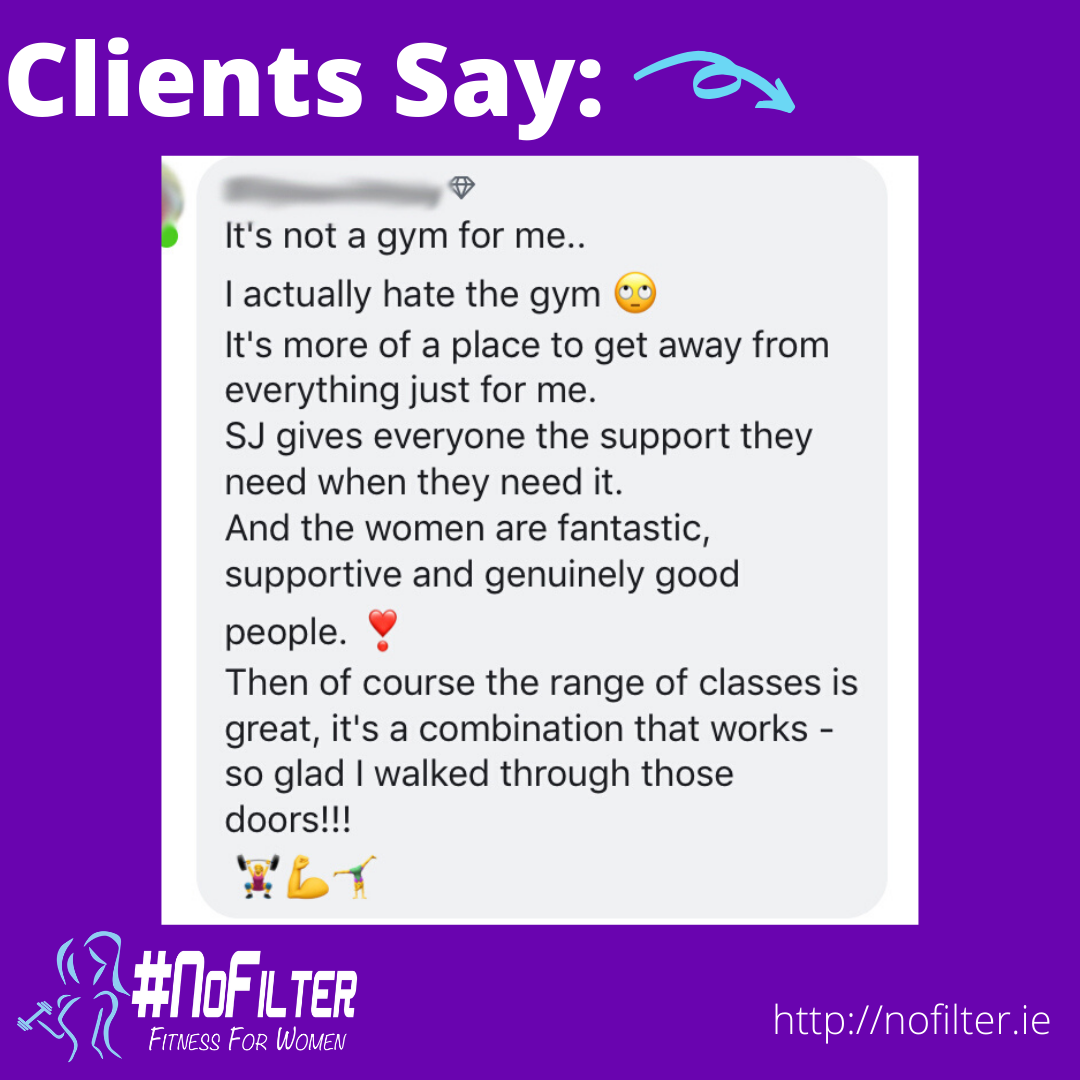 It's very hard for me to go to a gym when I've no-one to mind my son at home. This package is brilliant, and my son is enjoying it too!Tara
The best thing about it is I can actually do it. It's not too hard.Yvonne
We've set up a little WhatsApp group to keep each other motivated. LOVING the recipes!Elaine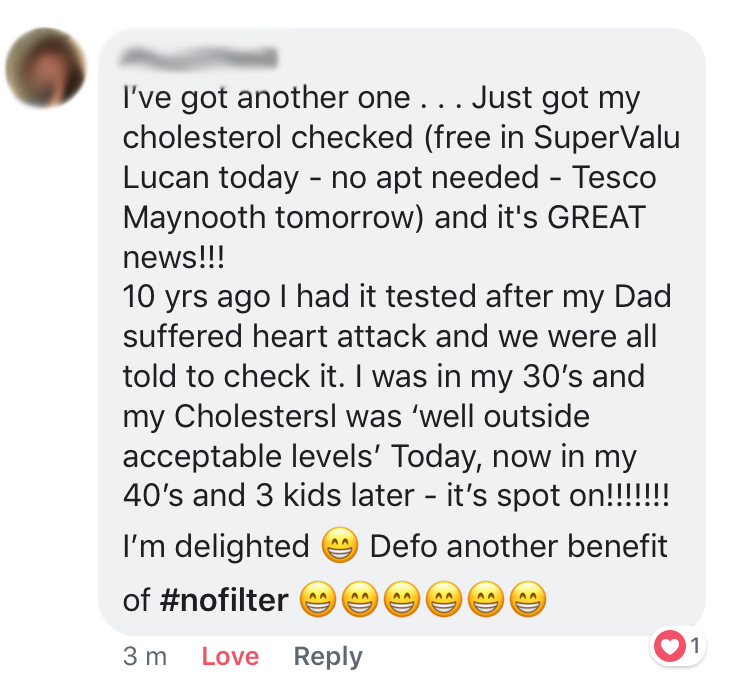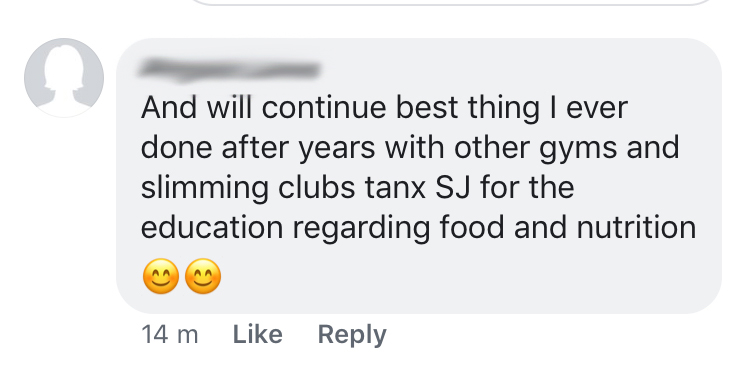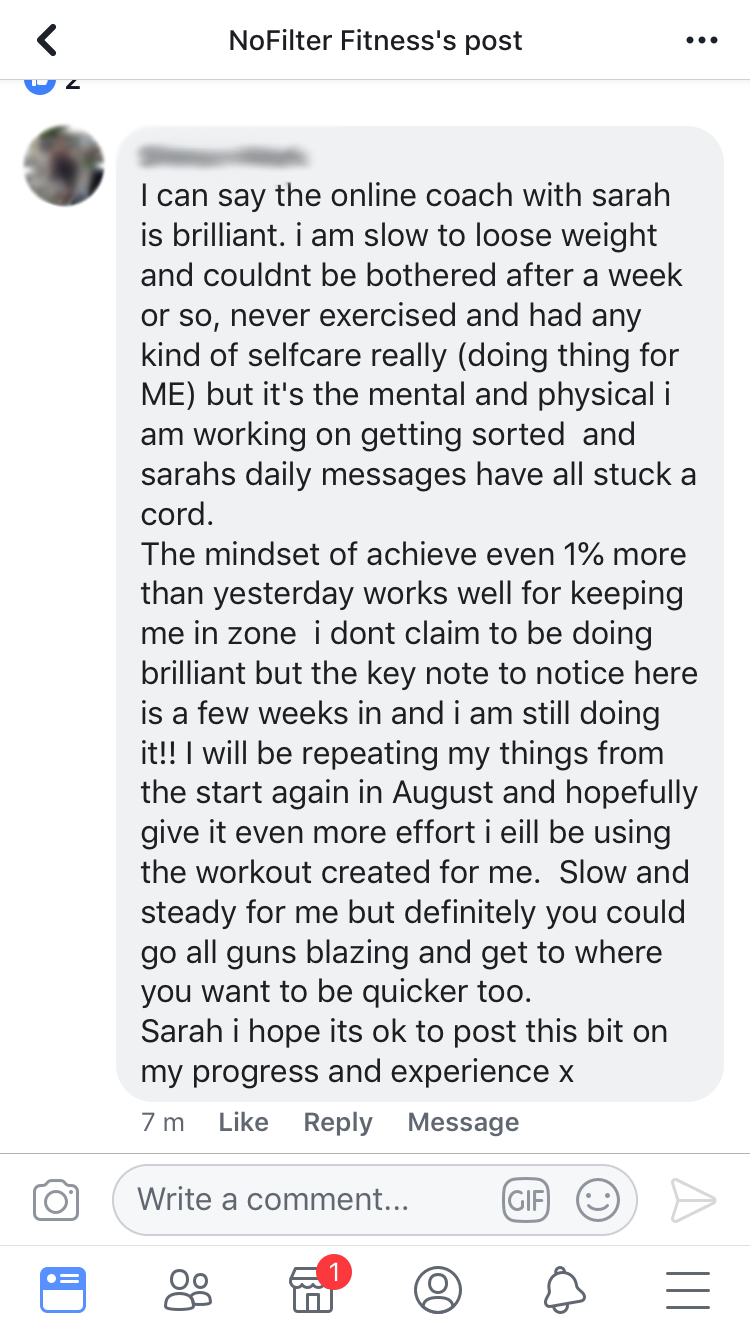 How do I access my programme?
A: After purchase, you can get instant lifetime access to your programme on our website; https://nofilter.ie/login
I don't have Zoom or Facebook, can I still do the classes?
A: Yes, the classes in this programme are prerecorded and accessed on our website so you can do them at any time that suits you.
Can I access this as often as I want?
A:Yes! Unlimited access, for one year, no catch, no subscription, and it includes any updated workouts or expansions introduced in the future.
How tough is it?
A: This is for people who do not consider themselves to be a complete beginner. The workouts are designed to increase your heart rate, burn fat and increase lean muscle mass, for someone with a general level of regular activity. No matter what your level is, as it's interval based you can work at an intensity that suits you.
I have a back/ knee/ joint injury, can I do this programme?
A: This programme is not tailored for injury rehabilitation. You should consult your physiotherapist or doctor if in any doubt about starting a fitness programme.
I'm pregnant, can I do this?
A: No, if you're pregnant and would like to know more about how to build your fitness safely, please do send an email. Postpartum women should consult their doctor 6 weeks after vaginal delivery and 12 weeks after surgical delivery before returning to exercise.
Do I need a Paypal Account to Pay?
A: No, payment is processed via paypal, if you do not have a paypal account, choose the pay by card option instead.
Can I see a preview before buying?
A: Sure, here's a preview clip of the content.

*Two of the workout videos require a resistance band which you can supplement with a pair of tights to get you started.
*PLEASE* Ensure that your email address is correct so you do not lose access to your package. You will get instant access upon payment, any issues just email me; sarahjane @ nofilter.ie
Pay secure via PayPal. You do not need a PayPal account to make a successful payment.
*As always with any fitness programme, you declare that you are in general good health and will consult with your doctor if in any doubt about starting an exercise programme. #NoFilter Fitness will not be held liable for injury where negligence can't be proven.
women's fitness dublin, lucan, ireland, clondalkin, tallaght, ballyfermot. Beginner friendly online workouts. Online fitness classes.